About SSL Certificates
You are at the right place if you are looking for the best and cheapest SSL certificate providers from different countries. SSL certificates provide the means to secure any website from unwanted threats. The Secure Sockets Layer or SSL in short is the only way you get a 🔒 symbol on the website URL. This ensures trust to your customers who visit your website.
Such certificates are issued by a Certificate Authority (CA). Major Hosting providers provide SSL when buying a Domain and Hosting Plan from their Websites. For offers on such Hosting providers Visit here.
The CA verifies the identity of the organization requesting the certificate. For example; People will know that they are sending their information to PayPal and not to someone who has set up a fake PayPal site.
The SSL certificate encrypts data sent between your website and its visitors. Potential attackers won't be able to steal the information people share on your site, such as their username, passwords, or credit card number, this way.
Nowadays, all web browsers, including Google Chrome, and Firefox, will warn users if they attempt to visit a site that lacks an SSL certificate. "This site is not secure," it'll say, or "Any information you share may be vulnerable to attackers and others." This will thereby make websites lose customers. Visitors will go to another site where they feel more at ease entering their Personal info or credit card information. I'm sure I would. Buying SSL certification isn't only about getting the best price. To understand more about SSL click here.
When it comes to Validation there are 3 different types to choose from, according to your needs.
Domain Validated or DV Certificates: This kind of Certificates gives basic protection to websites, which in this case do not provide any visual clues and are suitable for those on a budget or those who own sites which doesn't display much customer personal information.
Organization Validated or OV SSL Certificates: This offers basic business verification of the Company using the SSL and is available at affordable prices.
Extended Validated or EV SSL Certificates: EV SSL offers most visual cues about the business and requires a high level of business verification to process.
There are different types of SSL certificates available depending on your business type:
a) Single Domain SSL: Used on one website
b) Wildcard SSL: Used on one website and its underlying subdomains. It comes in many types as per our requirements such as organization validation and extended validation for companies like banks.
c) Multi-Domain SSL: Used in securing multiple domains and their subdomains.
There are numerous CA's to choose from, and they sell a variety of SSL certificates designed to assist businesses in establishing their online identity and protecting their customers' privacy. Many SSL providers provide free SSL certificates to beginners which will help them to get started. All they have to do is register their domain on their website and very the domain we use so that they can provide you the certificate which could be valid for 3 to 6 months.
Here are some of the Best and Cheap SSL Providers to look out for:
---
Comodo SSL is considered one of the best and most used SSL providers globally, with millions of domains using this service. Also, they have made great progress in recent years as an extremely inexpensive SSL service provider.
Much of that success has been due to relatively low prices, with a DV level 'Positive SSL' Certification presently costing only $7.50 for five years of coverage.
A five-year 'Premium' SSL solution costs just $54.09. A fully certified certificate, 256-bit encryption, and a $250,000 relying party guarantee are all included in the bundle.
However, if the information required for Comodo SSL to complete the verification procedure isn't available online, validation may take some time. On the plus side, if you have any installation or browser troubles, the organization has great customer service to help.
Comodo SSL
They have one of the best pricing available in the market due to which they earned fame.
Reason to buy
Very Affordable SSL
Good Customer Support
Used by many companies
Digicert has become the go-to SSL certificate provider for Fortune 500 and Fortune 100 firms since acquiring Norton and Symantec's online security solutions in 2017. The company's offerings vary from basic SSL certificate variations like OV and EV to complex solutions like their post-quantum cryptography security architecture.
Apart from being a market leader, DigiCert is also actively involved in the development of new SSL technologies. The organization is a founding member of the CA/Browser Forum, an industry group comprised of certificate authorities and online browsers dedicated to improving how certificates are used to benefit internet users and keep their communications secure
Digicert SSL
They serve the best companies in the world.
Reason to buy
Wildcard SSL Certificates
Fast Issuance
Norton Trust Seal Enabled
GeoTrust, which was originally owned by VeriSign and Norton, is now a DigiCert subsidiary. SSL certificates, SSL, and Signing Services for enterprise services are all covered by the organization.
GeoTrust offers a comprehensive range of SSL certifications, starting with domain-level certification and extending to True BusinessID with EV level certification.
GeoTrust SSL certificates are used by a variety of businesses and industries, notably government agencies, healthcare organizations, and financial firms. Even though performing the authentication process for Organization and Extended validation certificates take time, it is worthwhile as it will protect your firm from even the smallest malicious attack or phishing attempts, as well as build your online identity.
GeoTrust also comes with a number of features that ensure your site's security and provide 256-bit encryption. Customers can also get a $1,500,000 guarantee and a 30-day return policy from this SSL certificate vendor if there is an issue.
The cost of a GeoTrust SSL certificate ranges from $61.20 to $330.37 per year.
Geotrust SSL
They have a really good collection of SSL Certificates to cater to any needs.
Reason to Buy
Great value at the high ends
Enterprise Solutions
Cons
Validation may be time consuming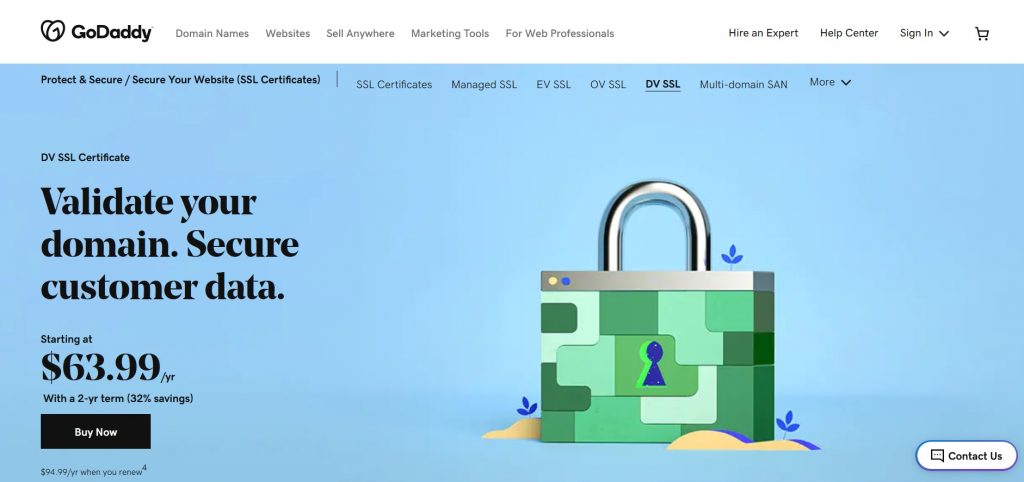 GoDaddy, a well-known domain registrar, offers SSL certificates as part of their web security package. For domain, organization, and extended validation, the cost is based on a single website and multiple sites, as well as wildcard SSL for limitless subdomains with domain or organization level validation.
GoDaddy's Managed SSL Service, which is focused on users of their hosting platform, stands out from the rest of the other platforms on the list. This service is available at the same price as the previous one, and it includes automated setup and continuous maintenance.
Godaddy SSL
Godaddy offers discounts when buying other products alongside for the long term.
Reason to buy
Significant initial discounts
Excellent on Security
Great on Customer Support
Managed SSL Services
---
---
RapidSSL is owned by GeoTrust, which we've already highlighted in this list of SSL providers. The reasoning behind this is that, while GeoTrust focuses on large corporations, RapidSSL caters to smaller, more cost-conscious organizations. RapidSSL will supply a single domain certificate with 128/256-bit encryption and browser recognition that surpasses 99 percent for just $17.95 per year. A wildcard certificate with unlimited subdomains costs $149 per year and comes with a $10,000 warranty and 30-day money-back assurance.
Free web and email assistance is available 24/7, and installation tools are included in the bundle for no extra charge. Even at this cheap cost, the service is based on the same global GeoTrust infrastructure that corporate customers enjoy.
Rapid SSL
Excellent for Small businesses looking to venture into the online market.
Reason to buy
Very cheap
They are built on GeoTrust's global infrastructure
They offer installation tools alongside the package
Zero SSL is used by more than 500,000 customers worldwide, ranging from individuals and freelancers all the way to SMBs and Fortune 500 companies. They provide 90-day free usage for up to 3 websites to all users. Click below to check out Zero SSL.
Some of the Companies that use Zero SSL:

ZeroSSL
A must-go for beginners in Blogging or website development.
Reason to buy
Free for 3 months
Many SSL Certifications are available
---
Best Price: SSL.com Certificate
---
SSL.com focuses solely on the selling and deployment of SSL certificates, as the name implies. The organization is a well-known certificate authority, with a comprehensive portfolio that includes trusted SSL, unified communication, wildcard, subject alternate name, and extended validation certificates.
SSL.com has a starting price of $36 per year.
Awesome
A must-go for beginners in Blogging or website development.
Reason to buy
A highly rated certificate authority
Offers many certificates for Small or Large companies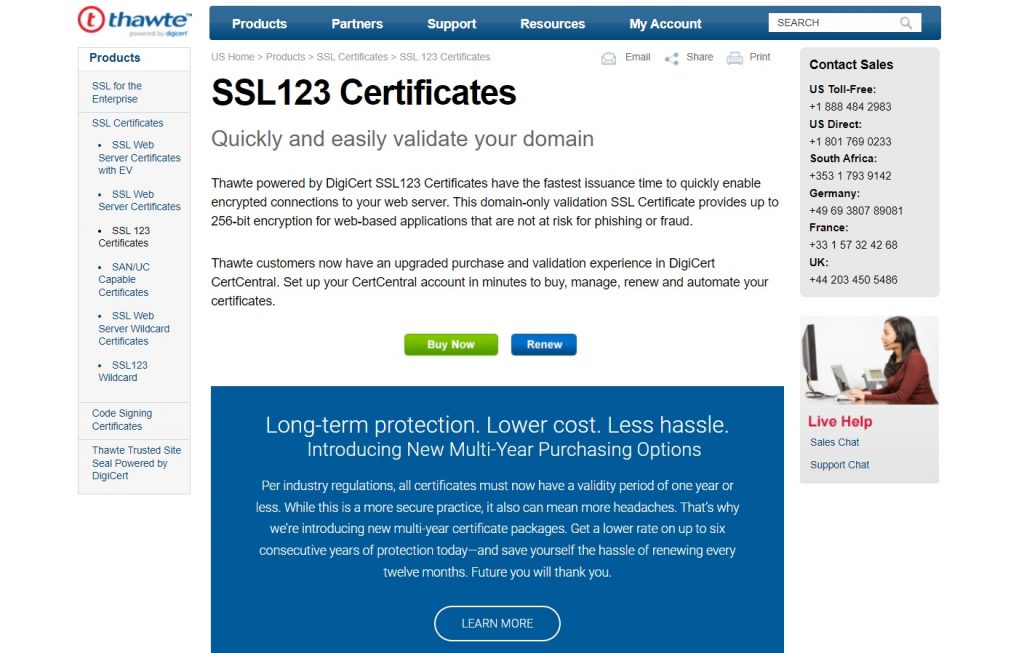 ---
Best Price: Thawte 123 SSL
---
A really well-recognized company for many decades, it is also a part of Digicert and Geotrust Group and has managed to not only deliver extensively to over 40% of the global market. That is over 1 billion SSL delivered to 240 countries worldwide.
The main reason for such growth for the firm is the way they were able to position themselves in the global market, using extensive characteristics such as great browser compatibility, impressive certificate management tools, and up to 256-bit encryption.
The EV level certification comes with background checks within 3 days maximum and costs around $145 for a 6-year plan. Customer satisfaction and pricing are one of the main factors that led to their success.
Thawte SSL
A must-go for beginners in Blogging or website development.
Reason to buy
A highly rated certificate authority
Great Certificate Management tools
Pricing is affordable
DISCLAIMER: Some links in this article may be affiliate links, which can provide commissions to us when you buy a paid plan. You can read more on our Affiliate Disclaimer page.
---
Note: Pricing can change at any time, please check the product website for detailed pricing.